MediaVise® Rackmount HDD Destroyer
Finally.. a Hard Disk Drive Destroyer that's Rack Mountable and Safe for your Workplace, Data Center and Server Room
The Phiston MVR-HDD doesn't simply make a drive inoperable by folding or punching a few holes in it. The MVR's proprietary 20 ton crusher, and patented corrugated crushing plates, aggressively crush and grind together all the magnetic storage platter surfaces and sensitive read heads in HDDs, damaging every square inch of the media (not just a few holes, or parts of platters folded), rendering all data storage surfaces destroyed.
First and Only Rack-mountable HDD Destroyer
Safe, Clean and Secure for Data Centers
NSA Evaluated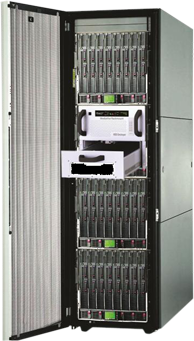 Key Benefits
Rack-mountable and Safe for Data Centers
Destroys HDD's and SSDs to RCMP Standards
Complete Media and Data Destruction
Product Features
Rack-mountable in Standard Racks. Uses 9 rack units
At-the-Source, In-house High Security Data Destruction saves time and money and HDDs never leave Data Center intact
Also destroys SSD's as well
Complete Media and Data Destruction in one package
Highest Standards of Worker and Environmental Health and Safety
HEPA Filtration to trap any airborne debris particles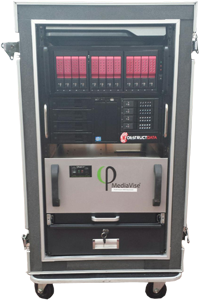 Security of Media after Destruction
Media destroyed in the MVR fall directly into a locked, secure debris collection drawer that can accommodate up to 25 destroyed HDDs and other media until the debris can be disposed of appropriately. A security pass code must be entered on the MVR key pad in order to open the drawer and/or remove it for proper disposal of debris. At-the-source, in-house destruction saves time and money over outsourcing, and the HDDs never leave the secure data center intact.
---
Secure SSD Destruction Where You Need It
RFI and EMI can be bothersome and sometimes damaging in data centers and other installations with sensitive electronic equipment. Phiston machines are complete enclosed in heavy gauge steel enclosures that, along with additional internal shielding and noise suppression circuitry, reduce RFI and EMI to almost undetectable levels not achievable in aluminum encased machines.
Product Images
Product Specifications
Size
15.83 H x 28.37 L x 18.83 W (Occupies 9 standard rack unit spaces)
Weight
181 lbs (excludes packing and crating)
Power Requirements
120 VAC 13A / 240VAC 7A, factory configured.
Maximum Media Size
5.75" x 4" x 1.25"
Destruction Chamber Capacity
1 full size HDD, 2 laptop HDDs
Media that machine designed to destroy
2.5″ and 3.5″ HDDs, cell phones, circuit boards, PDAs. Will also crush and destroy SSDs.
Destruction Cycle Time
Less than 30 seconds
Destruction Modality
20 ton force that can only be achieved by our proprietary hydraulic power module.
Patented corrugated interlocking crushing plates destroy magnetic data storage platters, circuit boards and read/write heads of HDD. Crushes SSDs and small electronic devices.
Deployment/ Transportability
Rack mounted in EIA standard server rack
Machine Control/ Monitoring
Slide out to turn on. Status LEDs, microprocessor controlled processes
Media Feeding
Gravity assisted, top loaded, one HDD at a time
Debris Collection
Locked, secure debris collection drawer that holds up to 25 destroyed HDDs and can only be opened by an authorized operator with an access code. Window in drawer allows inspection of debris.
Jam/Unjam
User initiated unjam cycle, as well as manual unjam
Safety
Completely automatic, hands-off operation. Lock-out doors to prevent operation if doors are not completely closed preventing hands or pieces of clothing from being carelessly caught in the crushing chamber.
User never has to touch potentially dangerous debris.
HEPA Filtration to meet MRV8 air quality standard.
Maintenance/ Longevity
Crushing plates never need replacing.
No blades to be replaced or sharpened
Technical support
On-call technical support service department; nationwide and international technical support team that can be deployed if and when repairs or maintenance needed.