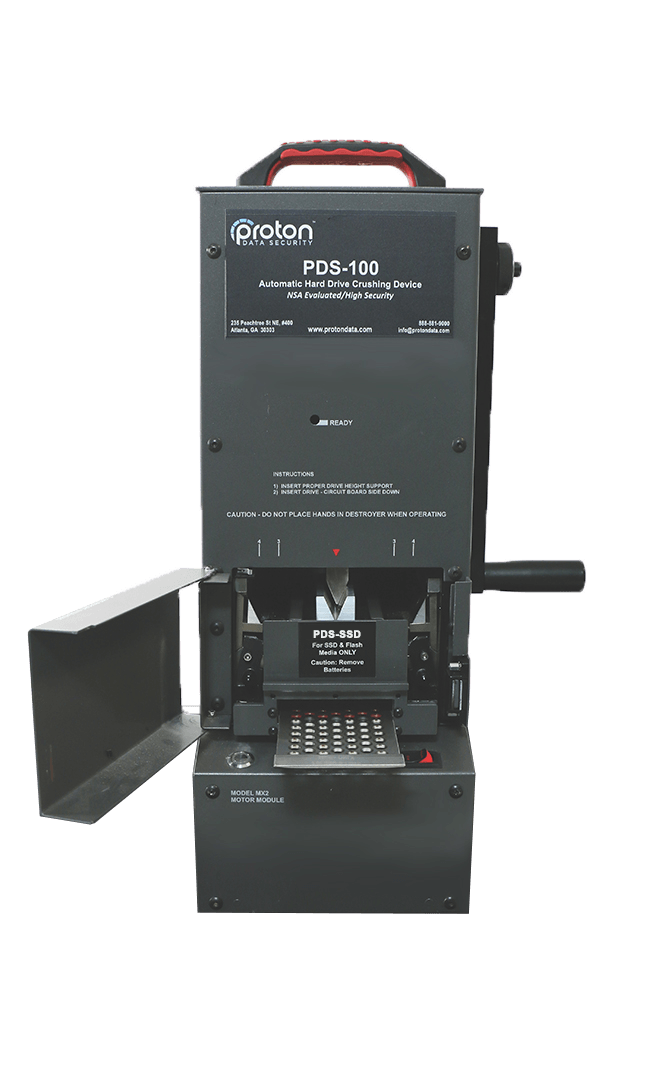 PSD-SSD Destroyer
Ensures all memory chips are destroyed to prevent data retrieval
• Allows compliance with recognized security standards and regulations, including NIST, HIPAA, FACTA, PCI DSS, GLBA, PIPEDA, IRS, GDPR, etc.
• Simple operation: Insert PDS-SSD into your Proton destroyer (PDS-75 or PDS-100) then place media inside drawer and close. Operate destroyer normally – blade will lower through insert and press down on internal plate, pushing numerous spikes through the media. Blade will then return to starting position automatically. Open drawer to remove punctured/perforated media
• Drawer is fully removable so operator does not have to handle
damaged media
• No consumables; eliminates need to buy media transport sleeves to handle small flash drives or thumb drives
• Optional barcode scanner with audit-tracking system available
• Made in the USA
• 1-year parts and labor warranty
Description
The PSD-SSD Destroyer adds solid state (SSD) destruction capability to the NSA listed PDS-75 and PDS-100 hard drive (HDD) destroyers. It drives spikes through SSD and flash-based media ensuring all memory chips on the boards are destroyed. This assures data is unrecoverable.
Simply replace the debris tray from your Proton destroyer with this SSD insert – takes less than 10 seconds and no tools required.
Additional information
| | |
| --- | --- |
| Destruction Chamber / Max Media Size: | 6"D x 0.5"H x 3"W (15.24cm x 1.27cm x 7.6cm) |
| Media Taken: | Standard SSDs, cell phones, SIM cards, flash drives, USB thumb drives, SSHD controller boards, etc. |
| Destruction System: | Electrogalvanized steel spikes |
| Cycle Time: | 8-10 seconds |
| Operation: | Automatic sensor start or manual (operates without electricity) |
| Dimensions: | 6.22"D x 3.72"H x 5.34"W (15.8cm x 9.4cm x 13.5cm) |
| Weight: | 3.5 lbs (1.59 kg) |
More HDD destruction machines: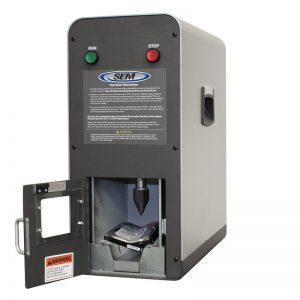 SEM 0101 Sledgehammer Hard Drive Destroyer The SEM Model 0101 Hard Drive Crusher has been "evaluated by the NSA/CSS and meets NSA and DoD compliance guidelines for the physical damage of media" with a durability rating of 204 drives/hour. This hard drive crusher destroys all hard drives regardless of size, format or type up to [...]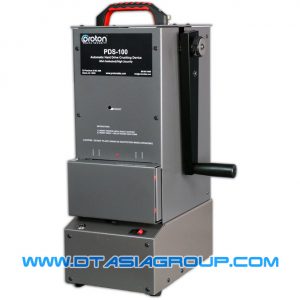 PDS-100 HARD DRIVE DESTROYER NSA/CSS Evaluated and Listed for destruction of 1-inch, .65-inch, 1.65-inch & Laptop Hard Drives The PDS-100 provides an automatic, motor driven operation - simply insert the hard drive and sensors will automatically start the destruction cycle. A unique feature of the PDS-100 is its ability to operate manually if power is [...]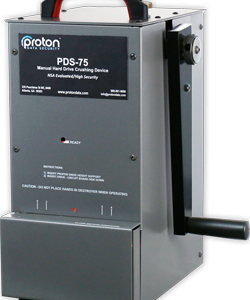 PDS-75 HARD DRIVE DESTROYER NSA/CSS Evaluated and Listed for destruction of 1", 0.65", 1.65" & Laptop Hard Drives The PDS-75 is designed to physically destroy all standard hard drives without the use of power in 8 seconds or less. Insert the hard drive into the slot and crank the handle 8 rotations to destroy the [...]
More information about Proton PDS-SSD destroyer?
Please send us a message: