PDS-88 SOLID STATE™ SHREDDER
The Proton PDS-88 Solid State™ Media Shredder is the perfect combination of office shredder, disintegrator and industrial shredder. It has the capability to shred several types of media, including solid state drives, CDs/DVDs, USB drives and more. Plus, it's packed nicely into an office shredder body. With an easy to use control panel docked at the top of the shredder and safety features that allow users to visibly watch media get destroyed by the several interlocking shredder teeth, the PDS-88 is the perfect solution to solid state & media destruction.
Just plug into a standard outlet, insert your media through the large media flap or the small media chute, and watch as the shredder automatically destroys the material in minutes. Operators are protected by the transparent chute covers to avoid any potential safety hazards. The i-control panel integrated into the face of the shredder makes destruction an incredibly easy process.
Descriptions
Meets DoD, NSA, NIST, HIPAA and PCI standards
Shreds solid state drives, smart phones, flash media, optical media, USB sticks, credit cards and more
Automatic reverse starts upon completion of shred cycle
Push button control panel allows for one step operation
Particle size: 0.15″W x 0.598″L (3.8 mm x 15.2 mm
Feed opening: 7 in (17.78 cm)
Power: 120 V/60 Hz/20 Amps or 220 V/50 Hz/Motor is 2.6 HP
Collection volume: 14 Gallons (53 Liters)
Cutting capacity per hour (approximately): 75-80 SSDs, 500 USB sticks/drives, 100 Cell Phones or 1500 CD/DVDs
Transparent cover allows viewing during operation without risk of injury
Product Details
Able to destroy SSD Drives, Smartphones, mobile phones, mini-tablets, credit cards, CDs/DVDs & USB sticks.
Specially designed cutting cylinders to destroy a variety of media devices.
Auto-Reverse is enacted to ensure complete destruction of all inserted media.
Small media destruction chute and larger media destruction flap built in for safe, efficient feeding.
An easy to use control panel resides on the top of the unit that allows users to push a button for all operations.
The control panel also indicates the status of the shredder, whether it is running through, standby or in auto-reverse.
Standards
HIPAA (Health Information Portability and Accountability Act)
FCC
GLBA (Gramm-Leach-Bliley Act)
DoD Emergency Destruction Guidelines
NIST Guidelines for Media Sanitization
NIST SP 800-36
NIST SP 800-88r1
California Senate Bill 1386
Meets E-3 Security Requirements
PIPEDA (Personal Information Protection and Electronic Documents Act)
PCI DSS 3.2 (Payment Card Industry Data Security Standard)
CE Standards
Specifications
UPC
No
Weight
260.0000
Dimensions
37.5'H x 22.6'W x 24'D

(95.25cm x 57.40cm x 60.96cm)

Water Proof
No
Fireproof
No
Manufacturer Name
Proton PDS-88 Solid State
Security Level DIN 66399
E-3 / O-3
Cutting Capacity per Hour
100 Mobile Phones

500 USB Sticks

1500 CDs

75-80 SSDs

Throat Width
7 Inches
Bin Volume
14 Gallons
Noise Level
65 dB(A)
Dimensions
37.5"H x 22.5"W x 24"D
Weight
260 lbs
Safety Standards
CE
Particle Size
0.15"W x 0.598"L
Acceptable Media
SSDs

USB Sticks

Smartphones

Tablets

CDs

DVDs

Mobile Phones
Particle Size
0.15"W x 0.598"L

(3.8mm x 15.2mm)

Cutting Capacity per Hour
75-80 SSDs

500 USB Sticks

100 Cell Phones

1500 CDs/DVDs

Feed Opening
7" (17.78cm)
Bin Volume
14 Gallons (53L)
Volume
7 Gallons  (26.5L)
Motor
2.6 HP (1.94Kw)
Power
120V / 60Hz / 20 Amps(Dedicated Line)

(220V/50Hz)

Dimensions
37.5"H x 22.6"W x 24"D (95.25cm x 57.40cm x 60.96cm)
Weight
260 lbs (117.93 kg)
More information about PDS-88 Solid State™ Media Shredder ?
Please send us a message: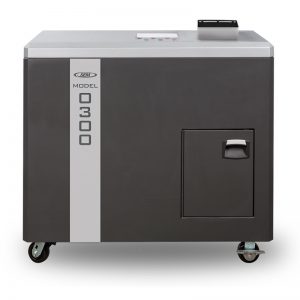 Hard Drive Shredder Ideal for Office Use The new Model 0300 Jackhammer™ Hard Drive Shredder from Security Engineered Machinery (SEM) has a small footprint and is easy to use. Only 37" high, 45" wide, and 21" deep, it destroys hard drives, other electronic devices (cell phones, smartphones, PDAs, etc.), optical media (CDs and DVDs), [...]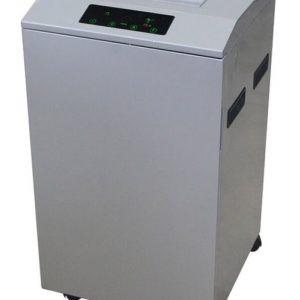 DT MFS901M Media Shredder Designed to accommodate 3 different types of media; Paper, CD/DVD, USB thumb drives, IC Cards/Credit Cards. Strategically built for all around use but still remain its high security levels at P-7 (Paper Media), E-4 (Electronic Media), and O-5 (Optic Media). Lightweight of about 45kg and the portable design and small footprint [...]