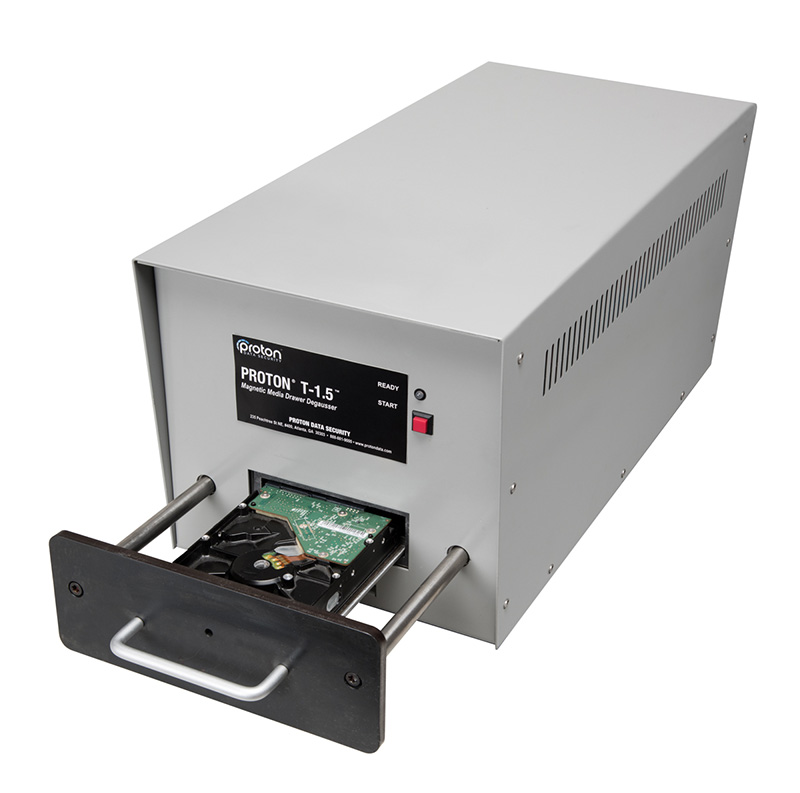 PROTON T-1.5 HARD DRIVE DEGAUSSER
PROTON T-1.5 HARD DRIVE DEGAUSSER
A powerful, high speed, automatic, drawer-style, mid to high volume degausser that permanently erases data from hard drives and various tape media. It has an effective magnetic field of at least 1.5 Tesla per cycle, making it the strongest and fastest commercial degausser available. The T-1.5 sanitizes the highest coercivity media in the industry!
Product Details
Meets US Department of Defense (DoD) and Defense Security Services (DSS) requirements for sanitizing unclassified data.
Destruction of confidential and sensitive data in accordance with the National Institute of Standards and Technology (NIST), FACTA, PCI DSS, GLBA, PIPEDA, IRS, GDPR, etc.
Internal software requires all parameters (capacitor voltage, switch, etc.) are present prior to the LED display.
This software guarantees that each degauss cycle delivers sufficient strength and consistent performance.
Simple operation – just insert media into the drawer and push the start button!
Will erase any magnetic media (Longitudinal and Perpendicular) that fits into drawer including all standard harddrives (laptop, desktop and network) and storage tapes (DLT, LTO, DDS/DAT, etc.)
No adapters required; maintenance free.
Manufactured in the USA in ISO9001 certified facilities.
Certified and ships with the CE mark.
Extremely compact and portable, optional wheeled deployment case which allows it to fit easily into available existing operations and be transported when necessary.
Specifications
| | |
| --- | --- |
|  Field Strength | 1.5 Tesla (15,000 Gauss) Minimum 1.7 Tesla (17,000 Gauss) Peak |
|  Cycle Time | 3 seconds |
|  Duty Cycle | Continuous |
|  Throughput | 1,200/hour (3.5″ hard drives) 4,800/hour (4 laptop drives/cycle) |
|  Power | Dual voltage – automatically switches between 120V or 240V, @ 50-60 Hz |
| Drawer Opening | Accepts all magnetic media within 1″x4.3″x6″ (2.5x11x15cm) |
|  Weight | 48 lbs. (21.8 kg) |
| Dimensions | 12″H x 12″W x 20″L (30.5 x3 0.5 x 50cm) |
More HDD and Tape Degaussers:
More information about Proton T1.5 Degausser?
Please send us a message: